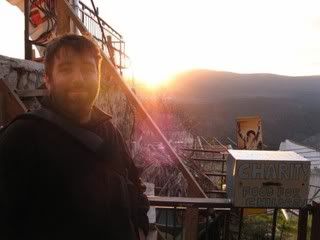 Upon returning from my recent trip to Israel, the most common question asked of me was, "What was your favorite place you visited?" It appears the most typical answer to give is Jerusalem. While I loved the belly button of the universe, I found it a great struggle to exist in that intense space. I wasn't prepared for its intensity and it completely threw me off. It wasn't a particularly enjoyable experience, in the sense of pleasure.
Instead, the most pleasurable point on the trip was our visit to Sfat, the birthplace of Jewish mysticism. From the moment I got off the bus, I knew I was in a special place, unique from the rest. The hidden pathways through the town were amazing and the stories of a synagogue appearing after men fasted and prayed for three days and nights were inspiring. Imagine the hope and optimism a person feels if they truly believe a beautiful synagogue can appear from praying and fasting. Amazing, if you ask me...
Sfat was hit hard during the 2006 Lebanon war. The citizens have rallied, however, and are continuing to rebuild their community, putting the pieces together one day at a time.
The air is different in Sfat, as it is one of the highest points in Israel. A mystical presence fills the air there, and it changed a part of me that I cannot yet explain. I was also fortunate to find a beautiful tallis from a shop there, that I will wear for the first time at my Bar Mitzvah in June.
The 60 Bloggers project is co-production of Jewlicious.com and the Let My People Sing Festival. It is published daily for 60 days to celebrate Israel's 60 birthday.